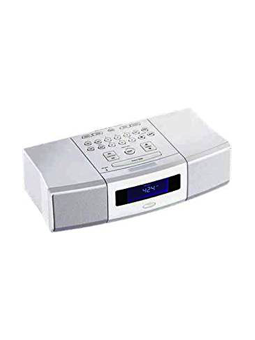 Micro System Cd White
Boston
In stock.
LAST PIECE!!! ULTIMO PEZZO!!!


Ultra-Versatile Compact Stereo System Combines Audiophile-Quality Sound with Multiple Listening Options and User-Friendly Conveniences
Boston Acoustics showcases its extraordinarily versatile MicroSystem CD/FM/AM System at the International Consumer Electronics Show.

The new MicroSystem CD is a high performance tabletop entertainment center that produces audiophile-pleasing sound with built-in conveniences that make it easy for anyone to use and enjoy. It combines a state-of-the-art stereo radio, CD player and audio hub that deliver the performance of separate audio components in one simple, versatile device.

Technology in the Service of the User
The MicroSystem CD uses digital signal processing to analyze music content in real time and deliver the high performance sound for which Boston Acoustics has become famous. Boston's patent-pending BassTrac digital algorithm produces deep bass out of proportion to the unit's compact size and eliminates the need for a built-in subwoofer.

MicroSystem CD has FM and AM tuner performance found only in the most advanced component receivers costing several times its price. Its ability to pull in weak stations separates its tuner performance from that of other 'shelf systems'. Precision PLL (Phase Lock Loop) circuitry locks in FM stations, eliminating drift while exploiting the full sonic capabilities of the signal.

The slot-loading CD drive uses advanced digital servo control for more accurate tracking of discs. It also permits convenient placement since no extra height is required for loading and unloading CDs.

Convenient and Versatile
The remote control and easy-access top surface controls on the unit assure simple and convenient operation from anywhere in the room. Space is provided in the flip-down door to store the remote when not in use. And with its magnetic backside, the remote can be 'docked' on a refrigerator or other metal surface.

Users can pre-set as many as 12 FM and 12 AM station favorites for instant recall, and the MicroSystem CD's slot-loading CD player plays MP3 and WMA discs as well as conventional CDs. Selecting, saving and playing pre-set radio stations is simple, and all presets and time settings are retained even during a power outage.

Adding to its versatility are an input jack on the front that's perfect for an iPod or other MP3 player, two more auxiliary inputs on the back, two independent alarms, and a front-panel headphone jack. Rear panel outputs allow connecting the MicroSystem CD to other devices, and the user can select between fixed-level and volume-controlled outputs.

With a footprint 14 inches wide by 8.5 inches deep, and a height of 4.5 inches, the MicroSystem CD takes up little space.

Convenience and utility are built in. The user can choose to fall asleep to one station and wake up to another, or to a CD. The two separate alarms are easy to set, and if there's a power failure, the unit's battery back-up assures on-time wake-up. Snooze and Sleep functions are also provided.

The display automatically dims in darkness and brightens when the ambient light is bright. The on/off button is illuminated for nighttime convenience.

For those who want to fill very large spaces with deep powerful bass, a subwoofer output is provided for an optional subwoofer.

For Anyone Who Enjoys High Quality Sound
"The MicroSystem CD is a component-quality system that's good enough to be the only music system for many people. Its sound and performance are in a league with separate components, not other shelf systems," said Boston Acoustics founder Andy Kotsatos. "It is small, simple to operate, and it has the versatility to connect other equipment so that it won't become obsolete. It's the most exciting and fun product we've ever made!"
View full description
Need more info about this product? Please