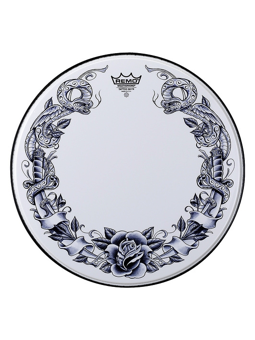 PA-1322-TT-T02 - Tattoo Skyn 22" - Serpent Rose Graphic
Remo
Currently not available.
REMO PA-1322-TT-T02 - Tattoo Skyn 22" - Serpent Rose Graphic;
Utilizing exclusive artwork designs by Corey Miller of the world famous TV show, L.A. Ink, Remo introduces Tattoo Skyn Drumheads.
The 22" Powerstroke 3 bass resonant heads feature a 10-mil film and a 10-mil inlay ring for overtone control.
Both Graphic Snare and Bass Drumheads utilize Remo's Skyndeep proprietary imaging technology that enables the image to be permanently embedded into the structure of the film without affecting the sound quality of the drumhead.
View full description
Need more info about this product? Please