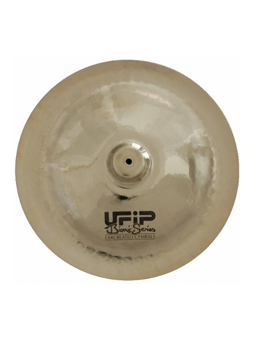 Bionic China 20"
Ufip
In stock.
Bionic Cymbals represent pure power, ideally suited to Rock and Metal players but applicable to all genres of music. Bionics are created by our experienced craftsmen, hammered especially wide and deep then hand polished to add warmth and richness to the sound, giving great control in every musical situation.

Alloy: Cast Bronze B20.

Production: Cast using the "Rotocasting" procedure, completely handmade, deep hammered with double punch, hand polished.

Level: Professional.

Applications: Hard Rock, Rock, Heavy Metal.

Sound: Powerful, bright and warm with many overtones, wide dynamic and sustain.
View full description
Need more info about this product? Please