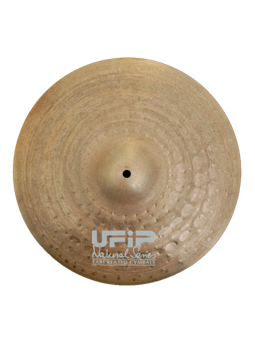 15" Natural Crash
Ufip
In stock.
The dark surface characterizes the Natural series. The fi nished is obtained through a special hardening procedure which reduces cymbal surface tension, a result that would need many years of natural ageing and use to be achieved. The result of this procedure is a cymbal that is dark and rich with incredible warmth, ideal for Jazz and Acoustic situations.

Main Features

Alloy - Cast Bronze B20.

Production - Cast using the "Rotocasting"® Procedure, thermal procedure for reduction of surface tensions, completely hand
made, deep hammered with double punch.

Level - Professional.

Applications - Jazz, R&B, Fusion, Blues, Country, Acoustic.

Sound - Controlled, dark, rich and warm with frequencies concentrated on the mid range of the sound spectrum.

View full description
Need more info about this product? Please