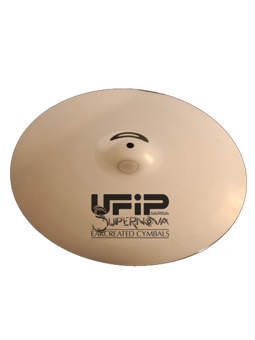 Supernova Crash 18"
Ufip
Currently not available.
The new Supernova Series is a result of two years research and development. Over this period we tested many different combinations of materials, weights, shapes, hammering and fi nishing processes. The result is Supernova Series which has a fast response, crystal clear and
glassy tone. Though not excessively powerful these cymbals sparkle with a incredibly dynamic and contemporary sound.

Main Features

Alloy - Sheet Bronze.

Production - Innovative hand hammering procedure using fast rotation, Brilliant Finish, Hand Polished.

Level - Professional.

Use - Hip Hop, Drum and Bass, Funk and other Urban genres.

Sound - Dynamic, Crystal Clear, Fast Response, Brilliant.

View full description
Need more info about this product? Please