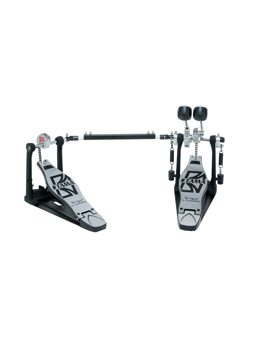 HP300TWB Doppio Pedale - Twin Pedal (Ultimo Expo)
Tama
Currently not available.
TAMA HP300TWB Twin Pedal
Cobra Jr. was developed with the same design concept as the Iron Cobra, offering high performance at an affordable price. For 2010, the Cobra Jr. has gotten even better. The new flat surface of the footboard offers enhanced control for slide technique, and the re-designed Power Glide cam shape allows for much lighter and smoother footwork.
- Power Glide Cam: The Iron Cobra 300 series drum pedals' single chain pedals utilize the same offset cam shape as TAMA's best selling Iron Cobra 900 series Power Glide.
- Spring Tension Adjustment: Inspired by Iron Cobra 900 series drum pedals' "Spring Tight" feature, this specially shaped nut prevents the spring unit from loosening.
- Beater Angle Adjustment: You won't find adjustable beater/footboard angles on most pedals in this price range.
View full description
Need more info about this product? Please