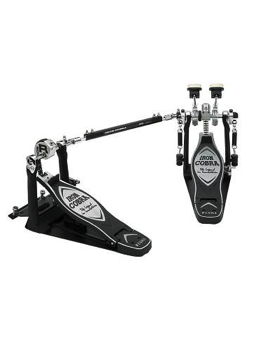 HP900RSWN Doppio Pedale (ULTIMO EXPO)
Tama
In stock.
TAMA HP900RSWN Twin Pedal
- Rolling Glide Cam: The Rolling Glide features a true round-shaped sprocket with a double chain for more durability, while still providing the smooth, uniform response of the traditional round cam.
- Pedal Housing: This new housing puts less stress on the bearings to make for a much smoother bearing motion.
- Oiles Bearing Hinge: To reinforce durability, the Iron Cobra 900 Series features a thicker 6 mm diameter shaft. Oiles bearings create far less friction than standard ball bearings. They also eliminate unwanted side-to-side motion while providing superior durability.
- Vari-Pitch Beater Holder: Vari-Pitch beater angle adjustments are completely independent of the footboard angle. The Speedo-Ring allows you to adjust the angle of the footboard link independently of the beater angle. The combination of the Speedo-Ring and the Vari-Pitch offer a range of incremental adjustments that will satisfy any style.
- Cobra Coil: The Cobra Coil solves the problem by adding a steel return spring. The return spring constantly presses the footboard to its original position, tightening the relationship between foot and pedal. Even better, the Cobra Coil is adjustable to different positions on the Iron Cobra footboard base plate.
- Speedo-Ring: TAMA eliminated another source of friction by replacing the traditional nylon rocker cam with the Speedo-Ring, a rocker cam with a high quality built-in ball bearing rocker.
- Para-Clamp II: Para-Clamp keeps your pedal flat on the floor no matter what your bass drum angle. The Para-Clamp is tightened from the side so you never have to insert your finger under the footboard.
- Quick-Hook: Quick-Hook not only allows rapid spring attachment and reattachment for rapid set up and tear down, it also eliminates wobbling and allows maximum power transmission to the Speedo-Ring.
Hard Carrying Cases Included.
View full description
Need more info about this product? Please