This product is part of the 50+ promotion
Add it to the cart along with other products that are part of the promotion (or have the shipping included) and your order will be shipped for free!
Adding a product outside of the promotion (or without the shipping included) will result in the addition of standard shipping charges (20€).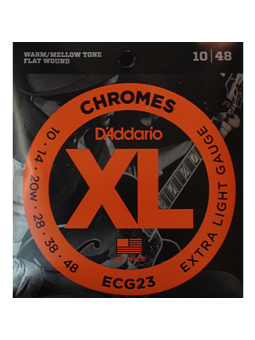 Ecg23 Extra lite Flat Wound
Daddario
In stock.
D'Addario Chromes are wound with flattened stainless steel ribbon wire which is polished to an incredibly smooth surface. Chromes deliver a distinctive damped but tone-rich sound that only flatwounds can produce. D'Addario Chromes are the world's most popular flatwound strings.
010-14-20-28-38-48.
View full description
Need more info about this product? Please