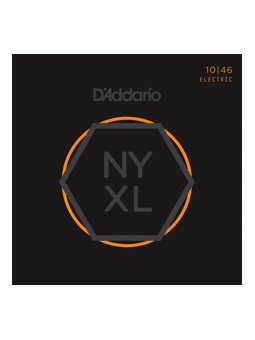 NYXL 1046
Daddario
In stock.
D'addario Nyxl
No string has ever offered this level of stability. Torture tests prove NYXLs stay in tune 131% better. So you don't waste time tuning, and can start playing sooner.
Put more power in your power chords. Strength tests prove that NYXLs are 20-40% stronger than anything you've ever played.

The reformulated nickel-plated steel alloy boosts amplitude in the 1 kHz to 3.5 kHz range, modernizing overall tone, without ever losing that incredible nickel-plated steel feel you love.
At two whole steps higher, NYXL strings are still at less than 75% of their breaking point. In the same setting, standard strings are at 90% of their full capacity.
10-13-17-26-36-46.
View full description
Need more info about this product? Please