This product is part of the 50+ promotion
Add it to the cart along with other products that are part of the promotion (or have the shipping included) and your order will be shipped for free!
Adding a product outside of the promotion (or without the shipping included) will result in the addition of standard shipping charges (20€).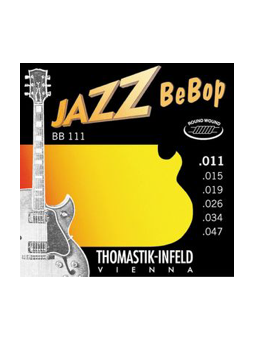 Jazz Bebop Bb111
Thomastik
In stock.
Jazz guitar playing is a highly developed art form that requires musical discipline, imagination, humility, and good strings. The Thomastik-Infeld Jazz BeBop Series has roundwounded low strings that will let your music sparkle.
Gauges: .011 - .015 - .019 (plain) - .026 - .034 - .047.
View full description
Need more info about this product? Please