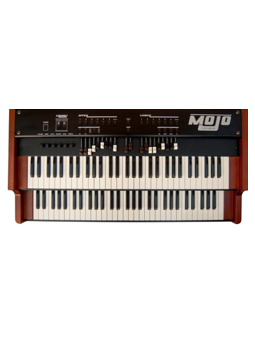 Mojo
Crumar
In stock.
The instrument is available for testing: come to play it and listen to it directly!
Last hardware/firmware revision!
In case of order can be delivered in 6/7 days.

Mojo is a double manual electromagnetic organ clone with two complete sets of real drawbars in only 17 Kg (37 lb), designed to meet the requirements of modern musicians without compromises.

Starting with the ultra-fast keyboard response, the positioning of buttons and controls, the two complete sets of 9 drawbars and the 2 drawbars for pedalboard in the middle, and the real wood finish of the forniture, make Mojo a real organ!

The interface of the instrument is designed to offer important features to musicians: easy management of presets and drawbar sets for both upper and lower manual, rotary speaker simulation control, percussion and vibrato buttons, pedal to lower function, tone, drive, reverberation and click amount.

With the "shift" button, you can adjust every paramenter of the sound in order to meet your requirements: choose between 20 different organ models, transpose by +/-12 semitones, change percussion volume, leakeage and crosstalk level.

USB connection along with MIDI IN and OUT sockets ensure connection with other instruments or computers.


View full description
Need more info about this product? Please