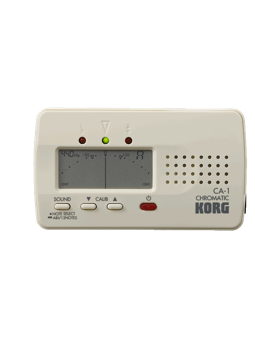 CA-1
KORG
Currently not available.
CA-1 Chromatic Tuner
Introduction to the CA-1 Chromatic Tuner
The proven choice for any instrumentalist, our affordable CA-1 Chromatic Tuner is packed with features missing from other low-cost chromatic tuners. Pure Major and Minor Third indicators benefit any ensemble player. Auto Power Off preserves battery life.

Product Highlights:

Compact Chromatic Tuner, ideal for brass band or orchestra.

Wide range of pitch detection covers C1-C8.

High-precision LCD needle-type meter for stable tuning.

Sound Out produces a reference tone from the internal speaker.

Calibration Function supports a variety of concert pitches.

Auto Power Off function conserves battery life.

Memory Backup function.

Approximately 100 hours of continuous use.
View full description
Need more info about this product? Please