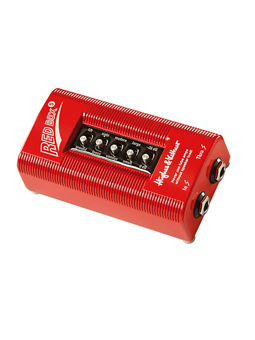 Red Box 5
Hughes & Kettner
Currently not available.
Control features
The RED BOX 5 features the usual Ground Lift switch and Pad switch to adjust input gain. There are also three sliding switches that provide some unusual sound-shaping filters. Providing rather more subtle than dramatic EQ, they help you conjure the sound of your favorite cab. These filters' action is most evident in slightly overdriven and heavily distorted lead sounds.

Loose/Tight: "Tight" gives you a taut, dense tone that's great for throatier riffs. "Loose" conjures an airier, softer sound.

Vintage/Modern: The "Modern" voicing gives you the bark and honk of modern speakers, while "Vintage" yields a warmer, woollier tone associated with old-school cabs.

Small/Large: "Small" captures the compressed sound of a small housing; "Large" gives the you greater girth and added bass of a sizable cabinet.

Ground/Lift: This switch severs the RED BOX 5's ground circuit to eliminate humming or buzzing caused by ground loops. As the name suggests, "Lift" severs the connection.

0 dB / -26 dB: Your choice of input gain level can make or break your sound. If it's too high, you'll get undesirable distortion. If it's too low, the noise floor can degrade your signal. As a rule of thumb, go with "-26 dB" for speaker signals and "0 dB" for line signals. There are some instances where "0 dB" is the more sensible choice for speaker signals: The amp's master volume level determines the speaker's output level directly, so of course the signal level drops markedly when you turn the master volume well down, for example, when you want to record at home at moderate volume.


View full description
Need more info about this product? Please