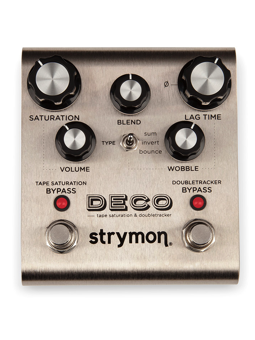 Deco
Strymon
In stock.
The Strymon Deco simulates the classic sound of the tabe machines typical of the 50s and 60s, perfectly recreating the feel and sound of the original. Deco is built by two totally independent sections:

- A Tape Saturation section that applies to the sound a natural compression and saturation rich of harmonics

- A Doubletracker section that offers the possibility of adding slapback echo, psychedelic flanger sounds and chorus.
View full description
Need more info about this product? Please