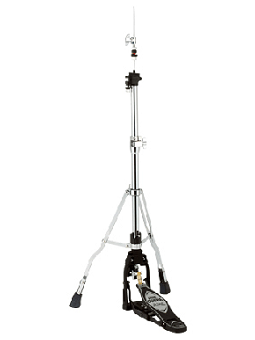 HH905N Iron Cobra Lever Glide Hi-Hat Stand
Tama
Currently not available.
Tama HH905N Iron Cobra Lever Glide Hi-Hat Stand
- Lever Transmission;
- Spring Seat: By tilting the bottom hi-hat cymbal, you can get a crisper and clearer hi-hat sound with your foot;
- Footboard Angle Adjustment;
- Swing Lock Clutch: Allows the top hi-hat cymbal to float more freely, maximizing the natural resonance of the cymbals; contain our usual felt washer so you have the option to choose;
- Non-Loosening Tension Rod: Specially shaped plastic and metal nuts fit together perfectly to keep the cymbal rod from loosening while playing;
- Dual Legs: Two-leg design is not only easier to set up in limited spaces, it's actually more secure than the standard three-leg design. The secret is in the small stabilizer under the footboard which effectively shifts the balance and strength of the stand toward the player. Since there's no steel plate under the footboard, Iron Cobra hi-hats are foldable for quick set-up, fast tear down, and easy portability;
- Tilt System: Not only do Tilt equipped stands offer more flexible set-ups, they also offer more expressive hi-hat work because you can tilt the hi-hat cymbal. Iron Cobra hi-hat stands can be tilted quickly and easily by loosening just one T-Bolt.
- 6-Way Tension Adjustment: Six different levels of tension can be achieved quickly by using the six easily visible settings;
- Swivel Foot: The foot pedal can be rotated around the tripod base, for greatly expands floor space and set-up flexibility;
- Duo-spike: You can easily switch from rubber to metal by using a standard drum key.
View full description
Need more info about this product? Please