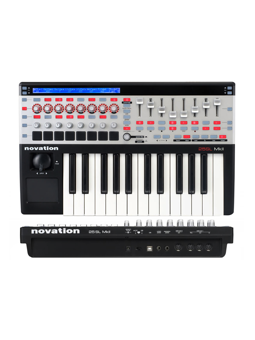 Remote Sl 25 Mkii
Novation
Currently not available.
SL Mk II combines a high quality semi-weighted keyboard with a full DAW and plug-in control surface, that visually feeds back all control information to the user. A giant 144-character display, back lit LED buttons and LED ringed encoders show the status of all controls. Ultra-quick mapping of all 56 knobs, faders and buttons is managed by the groundbreaking Automap 3 PRO software.

Caratteristiche
High quality professional keyboard
Velocity-sensitive, semi-weighted action keyboard from Fatar, with assignable after-touch. Novation deliver the feeling of playing an instrument, rather than just a computer peripheral.
Illuminated controls provide instant visual feedback
Brightly lit LED rings around the eight smooth encoders, and backlit buttons throughout provide instant visual feedback for every physical control, further reducing reliance on the computer screen.
Giant 144-character LCD screen
Frees the artist from being chained to the computer screen, placing all the essential data right alongside the relevant controls.
Huge array of touch-sensitive controls
Full control surface supporting ultra flexible DAW control and Auto-mappable plug-in controls, 16 knobs, 8 faders and 32 assignable backlit LED buttons.
Automap 3 PRO Control Software
SL Mk II comes with Automap software which enables you to instantly map software parameters to faders, buttons, encoders and pots and other controllers.
MIDI control interface.
View full description
Need more info about this product? Please