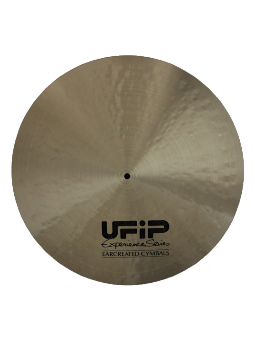 20" Experience Flat Ride
Ufip
In stock.
Experience denotes our experimental range. From new sound research and co operation with our endorsees, the Experience Series was born.w www We are able to react rapidly to an ever evolving and fast paced Musical Industry. Experience Series cymbals are limited in quantity and are available as follows:

REAL CHINAS: a Chinese style cymbal with an unusual down turned edge and a standard shaped bell. These cymbals are available in Rotocast B20 Bronze and in Rolled Bronze. The afore mentioned cymbal has a sharp attack with a soft and rich sound. The Rolled Bronze cymbal undergoes the same heat process that is used on the Tiger Series and are distinguishable by their trashy and aggressive sound.

SAMBA SPLASH: a small cymbal with an upturned edge, this splash style was created with the guidance and help of the percussionist Louis Agudo. Made in Rotocast B20 bronze, completely hand made, they are special effects ideal for Latin Music.

HAND CYMBALS: Hand Cymbals were conceived with the help of Marco Fadda. Made in Rotocast B20 bronze, these cymbals are very thin crashes to be played either by hand or with a violin bow.

COLLECTOR RIDES:these cymbals represent the ultimate in Jazz Rides. Thin with a very dark timbre, encapsulating the sound of cymbals from the Jazz Era of the 40's and 50's. Made in Rotocast B20 bronze, completely hand hammered, the Collectors Rides are available from 20" to 22" in Natural or Class finishes.

FLAT RIDES: a must of the UFIP production, the Flat Ride offer a dry and clear sound with a very controlled response to the sticks. Made in Rotocast B20 bronze, they are available in 18" and 20", in Class or Natural finish.

BELLCRASH: evolving from the Bionic Ride and the Class Crash comes the Bell Crash! The combination of the raw bell of the Bionic Ride and the light Bow of a Crash cymbal has resulted in an instrument that is truly unique, as no other manufacturer has the ability to make this hybrid due to our Rotocasting procedure. Used as a crash the cymbal is explosive and crystal clear and when used as a ride has powerful projection due to its cutting and clear bell tones.
View full description
Need more info about this product? Please