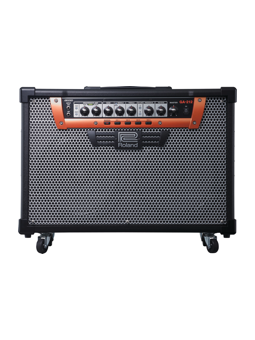 GA 212
Roland
In stock.
Roland Ga 212 the new model,
200-watt amp with two 12" speakers
Original COSM® amp model (Progressive Amp) with incredible feel, attack, natural compression, and sustain
Morph through clean to super-extreme tones with the DRIVE knob and BOOST button
Intuitive operation with simple, fast-access structure; two volume controls, three tone controls, presence, and reverb
Smart Channel memorizes the current position of knobs in all four channels without programming or saving
LEDs in the knobs show current settings in any channel, great for dark stages
Controls
ON switch AUTO OFF switch VOICE button BOOST button MID BOOST button EFX LOOP A, B buttons EFX LOOP A, B LOOP switches EFX LOOP A, B LEVEL switches MANUAL button CH1-CH4 buttons MASTER knob DRIVE knob VOLUME knob BASS knob MIDDLE knob TREBLE knob PRESENCE knob REVERB knob

Nominal Input Level
INPUT HIGH: -10 dBu INPUT LOW: 0 dBu MAIN IN A, B: -10 dBu EFX LOOP A, B RETURN: -10 dBu, +4 dBu (selectable)
Nominal Output Level
LINE OUT: -10 dBu EFX LOOP A, B SEND: -10 dBu, +4 dBu (selectable) THRU/TUNER OUT: -10 dBu
32.0 kg
70 lbs. 9 oz.
View full description
Need more info about this product? Please