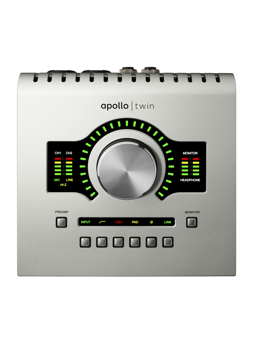 Apollo Twin Solo
Universal Audio
Currently not available.
The Universal Audio Apollo Twin Solo is a high quality audio interface with DSP single processor 24bit/192 kHz (Analog Devices SHARC) to use the powerful plug-ins UA without using the CPU go your computer.
The Apollo Twin has in bundled "Realtime Analog Classics" which includes legacy edition of the LA-2A Classic Audio Leveler, 1176LN Limiting Amplifier and the Pultec EQP-1A Program Equalizer, plus Softube Amp Room Essentials, etc..
View full description
Need more info about this product? Please