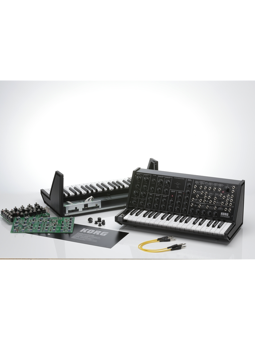 MS-20 Kit - Già Assemblato!
KORG
In stock.
The MS-20 Kit is a kit that lets you obtain a real MS-20 by assembling the parts according to the directions in the owner's manual. Most of the steps are simply a matter of tightening screws or fitting parts together, so you don't need to know about soldering or electronic circuitry. Beyond any doubt, the analog sound generated by the MS-20 that you yourself completed will sound more valuable than that of any other synthesizer. Unlike the MS-20 mini, the MS-20 Kit is a full-size unit with a standard-sized keyboard, and the plugs are also full sized 1/4" phone plugs.

The original MS-20 used different VCF circuits depending on the date of production. Units produced in the earlier period used a filter noted for its distinctive distortion and self-oscillation, while the filter used in later units was a low-noise design with a more mellow character. Amazingly, this new MS-20 Kit provides both filters. You can switch between the two by moving a jumper pin on the circuit board according to your taste or needs.
View full description
Need more info about this product? Please