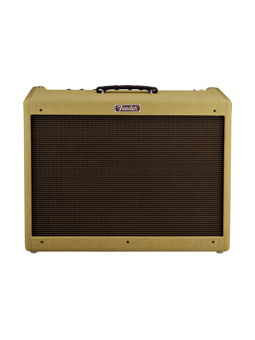 Blues Deluxe Reissue
Fender
Currently not available.
3 12AX7 preamp tubes and 2 6L6 output tubes.
* Normal and Drive channels, voiced for classic blues, country and rock styles
* Bright switch for Normal channel
* Fender spring reverb
* Effects Loop
* Cloth Tweed covering, Chicken Head pointer knobs and chrome control panel
* Two-Button Footswitch for Drive Select and Reverb On/Off is includedDimensions: 23.5 in. x 18.75 in. x 10.5 in. (H x W x D)
The Fender Blues Deluxe was launched as a vintage-styled tube amp with 'boutique' tone at an affordable price, and many professional rock, country, and blues musicians have used them with great results. After a few years, the Blues Deluxe and Blues DeVille were reborn as the Hot Rod Deluxe and Hot Rod DeVille, when they received modified circuitry, a third -More Drive channel, and Black/Silver cosmetic treatment. Though the Hot Rod series amps are more popular than ever today, increasing numbers of enthusiasts continue to request the Fender Blues Deluxe's warm tone, unique circuitry, features and look of the original versions. Thus the Fender Blues Deluxe Reissue is now offered in addition to the Hot Rods. The Fender Blues Deluxe Reissue produces 40 watts into a single 12" Special Design speaker by Eminence.
View full description
Need more info about this product? Please