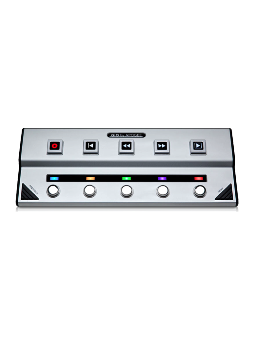 Gio (exdemo)
Apogee
In stock.
GiO è un'interfaccia USB per chitarra progettata per Apple Logic Studio 9, MainStage 2 e GarageBand '09. Combinando un controllo effetti, funzioni di registrazione e una qualità sonora impressionante, GiO permette inoltre un accesso completo ad una serie incredibile di amplificatori ed effetti. Il tutto in un'unico controller a pedale.

Progettata per Logic Studio 9, Mainstage 2 and GarageBand '09
Progettata per funzionare con il nuovo Logic Studio 9 e MainStage 2, GiO permette al chitarristi un pieno controllo della registrazione, cambio di preset e plug-ins del livello di Amp Designer e Pedalboard, attraverso le nuove funzioni di MainStage, Playback and Loopback. Con GarageBand 09, GiO è un vero e proprio "plug-and-play" e permette all'utente con estrema rapidità il collegamento della propria chitarra, la scelta dell'ampli e degli effetti e, infine, la registrazione.
View full description
Need more info about this product? Please