This product is part of the 50+ promotion
Add it to the cart along with other products that are part of the promotion (or have the shipping included) and your order will be shipped for free!
Adding a product outside of the promotion (or without the shipping included) will result in the addition of standard shipping charges (20€).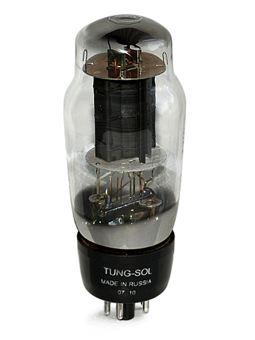 6l6G Big Buld platinum Matched
Tungsol
Currently not available.
This is a matched quartet of Tung-Sol 6L6GC STR tubes. The original Tung-Sol 6L6 tubes have a reputation for being some of the best quality, warmest sounding and most evenly balanced 6L6 tubes ever produced. The Tung-Sol 6L6GC STR reissue has recaptured all that glory. These 6L6's are like vintage NOS tubes without the NOS price tag. They can take a plate voltage up to 500 volts and will produce a continuous 30 watts of power each. Clear highs without edginess and solid bottom, plus a sweet midrange, make the new Tung-Sol 6L6GC STR tubes an outstanding choice for guitarists and audiophiles.
View full description
Need more info about this product? Please