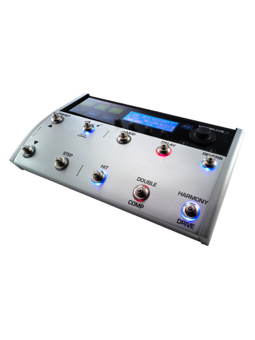 VoiceLive 3
Tc Helicon
Currently not available.
The new TC Helicon VoiceLive 3 is a 3 in 1 professional system able to offer unbeatable performance for voice, guitar and real-time loop processing.

As a vocal processor the VoiceLive 3 offers state of the art sounds and complete harmony process, all with the legendary TC Helicon quality.

As a guitar processor the VoiceLive 3, thanks to the partnership between TC Helicon and TC Electronics, offers a wide range of effects directly from TC Electronics best selling stomp boxes, like Flashback Delay, Hall of Fame Reverb, Corona Chorus and many others. A guitar amp and acoustic guitar simulators are included too !

The looper is really powerful, with multi-track and unlimited overdubs, has 3-phrase looping with 4 selectable layering so you can manage even the most intricate songs and multi-purpose metronome and quantize so your loops will always sound perfect !

Technically speaking TC Helicon VoiceLive 3 comes with new generation 3iC processing, that assign to each function (voice, guitar and loop) a decicated processor, for gain the absolute best performances !

View full description
Need more info about this product? Please