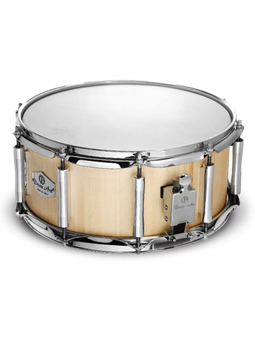 DA1445AB - Abete Val di Fiemme 14"x4.5" Snare Drum
Drum Art
In stock.
DRUM ART DA1445AB - Val di Fiemme Fir 14"x4.5" Snare Drum
The wood for this series is the same as for violins: Spruce from Val di Fiemme, naturally seasoned three years long. It produces a clear and rather dry sound, a reduced presence of harmonics and a high tonality prevalence. The response is very definite and open, particularly for models having a 12" diameter.
Sizes: 14" x 4.5";
Shell: Val di Fiemme Fir;
Hoops: Power Hoops;
Includes: Professional case and tuning key D-KEY Drum Art.
View full description
Need more info about this product? Please