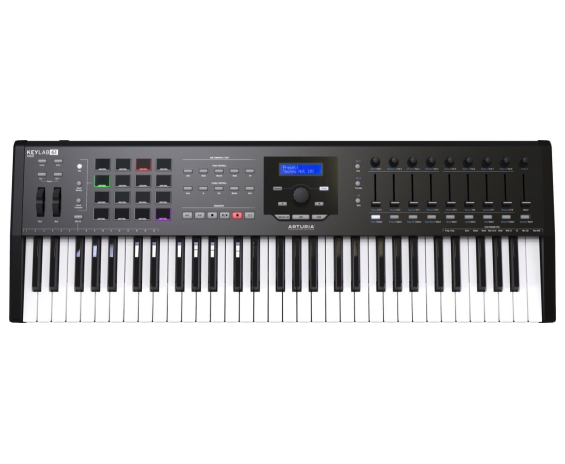 Both 49-key and 61-key versions of KeyLab MkII feature Arturia's Pro-Feel action, the same lusciously playable keybed as the MatrixBrute and MiniBrute 2. Sensitive enough to accurately capture the subtleties and nuances of delicate playing, while still being robust enough to feel the energy of high-impact performances.
Encased in durable, tour-ready aluminium and decked out with wiggle-free knobs and faders, Arturia have created a controller designed from the ground up to not let you down.
Over 6,500 are available in Analog Lab alone, which perfectly integrates with every element of KeyLab MkII so you spend more time making music, and less time staring at screens.
A gateway to software, KeyLab MkII features 9 rotary encoders, 9 faders, 16 backlit RGB performance pads, and a selection of fully assignable buttons to give you unfettered access to your virtual instruments, effects, and recording environment.
Send and receive CV / gate data to bridge the gap between modular and MIDI, with a fully customizable setup. Set up a complex automated sequence in your DAW, and sent it out to your Eurorack setup. Only KeyLab MkII makes it this easy.
Amazingly versatile, hugely expressive, and geared up to enhance your creativity and workflow wherever your music takes you.
KeyLab MkII comes in both black and white options, and in 49 and 61-key versions, so whatever your studio aesthetic or size preference, Arturia have you covered.