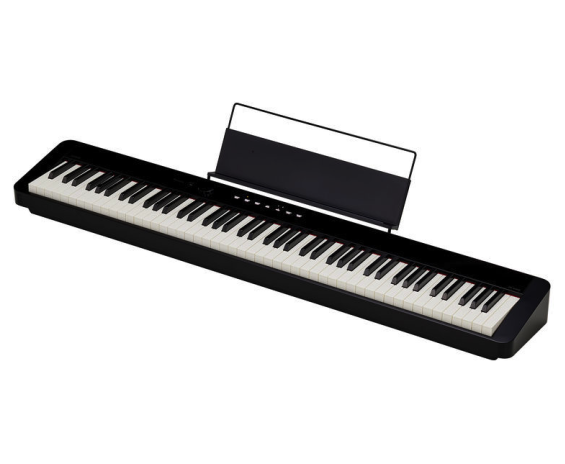 The new PX-S1000 marks a new chapter in the fifteen year history of the iconic Privia digital piano. Unashamedly original and with incredible new features, this latest model complements any living space and is supremely portable.
Despite it's slimline appearance, this new Privia digital piano has the full range of 88 weighted keys with simulated ebony and ivory textures. Hear the incredible new Grand Piano tone through the built-in speakers or plug-in headphones for silent practice.
A mark of quality in an acoustic piano is in the feel of its keyboard. Each key has its own hammer weighting, key resistance, damper position and key release time, creating a tone and touch which is proportional to that of its neighbour.
For the first time, Casio's Smart Scaled Hammer Action Keyboard simulates the unique touch response of each individual key, delivering increased authenticity and a new level of playability.
Every fine nuance of an acoustic piano's tone is faithfully recreated too, including String and Damper resonance and even the mechanical action noise, for the ultimate in expressive realism.
The PX-S1000 is the most straightforward digital piano to use, thanks to Casio's unique Active Touch Panel Display.
Touch the panel above the keys and see controls appear as if by magic. When not in use, the panel becomes dark, leaving you to focus on performing without distractions.
See all the functions in front of you, including a Song Recorder, Metronome and sound select controls without needing to navigate any on-screen menus.
With Bluetooth audio playback, the PX-S1000 instantly becomes the centre of your music making, whether it be in your home or studio.
With a USB connection, you can compose, learn and play music from your smartphone or tablet. (Cable Required).
The PX-S1000 is fully compatible with iOS and Android devices and can be used with Casio's own free Chordana Play Piano App.