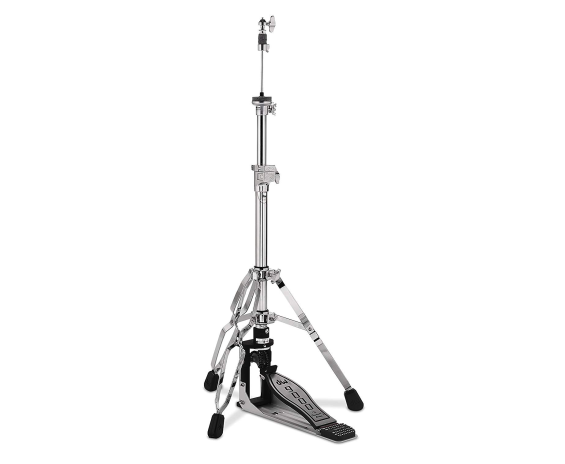 DW9500D - 9000 Series Hi-Hat Stand
- Patented Double Eccentric Cam that increases the sensitivity of the footboard in relation to cymbal movement, resulting in a unique, incredibly fast and responsive feel.
- Infinitely Adjustable Locking Spring Tension feature allows for precise adjustment to offset the weight of the top cymbal, creating a customized feel.
- Lateral Cymbal Seat: is a first in hi-hat design, allowing instant access for adjusting the bottom cymbal angle; a small detail that makes a big difference.
- The uni-body Folding Footboard stays attached to the base casting when secured in the folded position.
- The high-tech Ball Bearing Hinge provides smooth, quick action.
- SM379 Locking Clutch comes standard and allows you to dial in closed "sloshyness" and lock it so it doesn't come loose.
- Upper Rods come standard in two lengths (21" and 15"), allowing you to customize the Hi-Hat Stand for your specific needs.
- Plastic Tube Insulators inside the heavy gauge tubing are a necessity in recording situations to avoid rattling when drum mics are placed close to stands.
- Swivel Legs allow easy positioning of bass drum pedals and other stands around the Hi-Hat Stand.