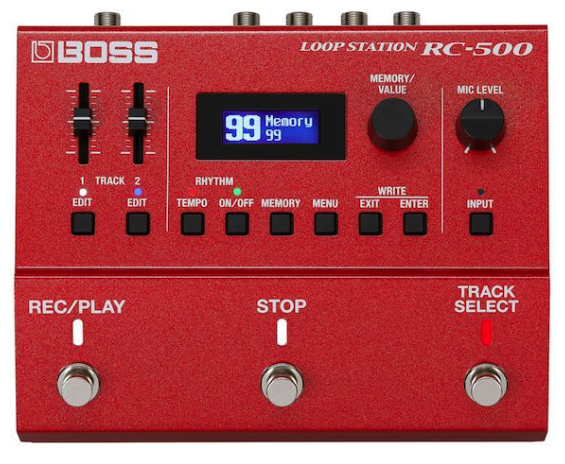 The RC-500 Loop Station builds on the massively popular BOSS RC-30 2-track looper, adding MIDI capability, an animated color LCD, spicier onboard drums, and more stereo record time than you'll know what to do with. From beatboxers and guitar players to keyboardists and singer/songwriters, if you're looking for a creative launchpad for writing songs at home and building loops in the live environment, the BOSS RC-500 makes the perfect addition to your setup. Record and overdub onto the RC-500's two independent tracks, then toggle, blend, and mix to your heart's content. Onboard Loop FX (Beat, Repeat, Shift, Scatter, and Vinyl) let you add texture to loops for greater variation. The BOSS RC-500 Loop Station gives you 13 hours of flawless 32-bit stereo record time parceled out into 99 recallable Phrase Memories. Phrase Memories store not only base loops and overdubs you've laid down, but also Loop FX and any of the 114 onboard drum grooves and 16 drum kits you've chosen for accompaniment. Thanks to the RC-500's USB connection, you can easily backup and reload loops by the setful. The animated RGB backlit LCD keeps you apprised of measure, beat, and loop status every step of the way. Looking for more control? The RC-500 also gives you stereo ins and outs, an assignable external footswitch/expression pedal port, and even TRS-MIDI in/out for sync with drum machines and remote operation from your pedalboard MIDI switcher.

When inspiration strikes, you can count on BOSS's RC-500 Loop Station to capture those fleeting moments of musical creativity. Loops and overdubs are recorded in flawless 32-bit depth to preserve the full dynamics of your performance without the presence of additional noise or overloading. Whether you're using the RC-500's 99 Phrase Memories to generate playback material on the stage or archiving your studio-worthy song ideas for further review and arrangement, the RC-500 delivers the run time and quality you're searching for.

*Maximum single track length: 1.5 hours

99 Phrase Memories + USB backup
As anyone with a looper will tell you, those memory slots store up fast. That's why the BOSS RC-500 gives you not only 99 Phrase Memories for instant recall — each complete with overdubs, Loop FX, and rhythm presets — but USB import/export as well. So when you need to offload loops from your solo acoustic shows to make way for your Eddie Money-tribute sax lines, swapping out files is as easy as dragging and dropping.