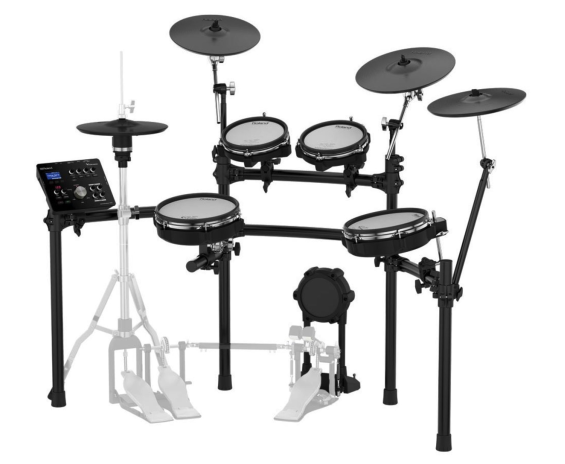 - Contact us for a better price! We will do our best!

KIT CONFIGURATIONDrum Sound ModuleTD-25 x 1V-Pad (Snare)PDX-100 x 1V-Pad (Tom1, Tom2)PD-85 x 2V-Pad (Tom3)PDX-100 x 1V-Hi-HatVH-11 x 1V-Cymbal CrashCY-12C x 2V-Cymbal RideCY-13R x 1Kick PadKD-9 x 1Drum StandMDS-9SC x 1

Advanced SuperNATURAL sound engine based on the flagship TD-30
Sound quality and expressiveness equivalent to the top-of-the-line V-Drums
Simple, logical interface for easily swapping and customizing each drum and cymbal in a kit
PDX-100 10-inch mesh-head snare pad with support for positional sensing and rim shot/cross stick playing
Three mesh-head tom pads: two PDX-6 6.5-inch pads for rack toms and one PDX-8 8-inch pad for floor tom
VH-11 V-Hi-Hat mounts on a standard acoustic hi-hat stand and offers realistic motion and a natural acoustic feel
CY-12C 12-inch crash cymbal with natural swinging motion, edge/bow sensors, and choke control; CY-13R 13-inch ride cymbal with natural swinging motion and edge/bow/bell triggering
KD-9 kick pad with cloth head for great feel and solid playability
Play along with WAV/MP3 songs and capture drum performances as audio tracks to a USB memory stick
Build drumming skills with the onboard Coach function
Quick-access metronome with dedicated screen, on/off button, and tempo knob
USB host port for audio/MIDI communication with a computer
Weight 22,5kg.