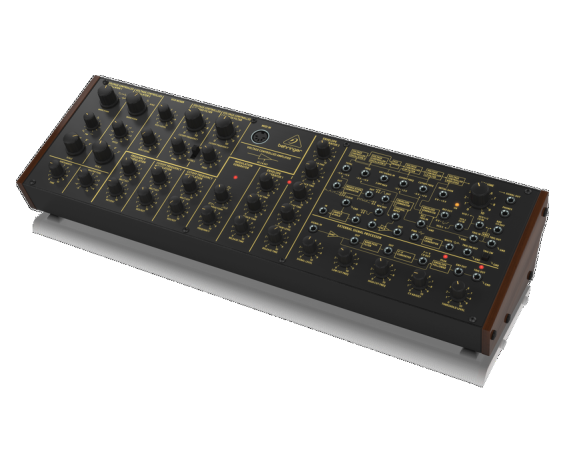 With the Behringer K-2 semi-modular synthesizer, you'll tap into a classic analog synth design that's ready to integrate with your other modular synth gear. The all-analog signal path includes fat-sounding oscillators (with four variable wave shapes), vibrant and aggressive analog filters, and snappy analog envelope generators. And even if you don't have any other modular synth gear to connect it with, the K-2 is ready to play right out of the box — no complex patching required, just connect it to your controller or sequencer via MIDI or USB. With 36 dedicated knobs for hands-on control, and the option to Poly Chain up to 16 modules to create a monster polyphonic analog synth rig, the Behringer K-2 semi-modular synthesizer represents big creative potential.
Synthesists at Sweetwater were pleased to see two distinct filter modes on the K-2 — this synth module is a re-creation of the classic MS-20 synthesizer, which featured different filter types over the years. The K-2's filter modes represent the first and second generation of filters found on the original synths, giving you two distinct flavors of filtering ranging from smooth and liquidy to harsh and resonant.
As a single-voice analog synth with dual oscillators, dual filters, external audio input, and a ton of patch points, the K-2 synth module represents big value on its own. And with support for up to 16 voices in Poly Chain mode, you can keep adding modules to your rig to add more sonic potential. Simply connect each K-2 module to the previous module's Poly Chain output to add another synth voice.
The Behringer K-2 module is a sweet synth for desktop use on its own — and it really shines when you start patching it in with other modular synth gear. If you're already equipped with some Eurorack modular gear, you can even mount the K-2 module to a standard Eurorack case. And with a ton of patch points to play with, and 36 dedicated controls for hands-on sound shaping, the K-2 will definitely get a lot of use in your productions.