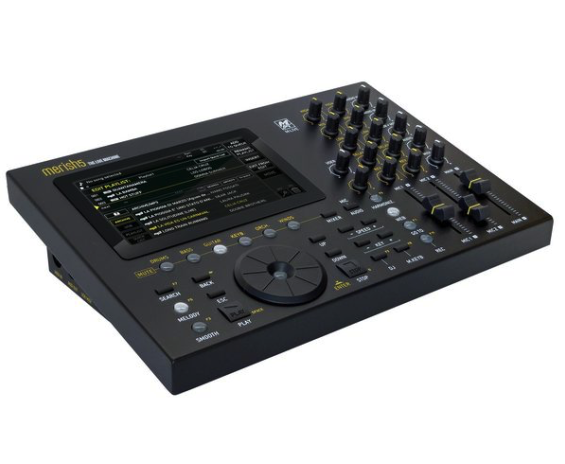 One single machine to give all you need to play and sing at top level.
Merish5 is the evolution of earlier versions of Merish and it sets the benchmark among the stand alone devices designed for reading, archiving and playing of digital Backing Tracks. Merish5 includes all the best features of the former versions, but it's been optimized and completely re-designed.
Merish5 is operated by Xynthia, an Operating System developed by M-Live in a more than three years research.
Xynthia allows the easy and very fast management of large music libraries, the direct surfing of music websites, the download of music files from the internet. Thanks to Xynthia, Merish5 is a powerful sound generator that can be controlled by an USB Master Keyboard as well, with an optimized Midi sound, the complete multitasking of different work sessions, the increase of the Digital Mixer with the complete control of any parameters for Mixing and Eq, and many more features that you will discover using your Merish5.
Merish5 includes all sound that were in the earlier versions, but the most part of them have been re-mastered, re-sampled and optimized, thanks to the sound memory that is now ten times larger than before. The sound bank of Merish5 lives up to the requirements of professional live musicians.
Merish5 can be played also using an USB Master Keyboard that connected to the machine will be powered and ready to play the internal database of Merish5. An USB Master Keyboard and Merish5 are the perfect match for those who desire awesome sounds and uncompromising features in controlling and managing of your music libraries.
For those who love to have high quality Backing Tracks in every musical genre, Merish5 is the perfect tool. Thanks to Xynthia Os it can connect to Internet via Wi-fi to explore the archives of www.songservice.it. The download of Backing Tracks is very fast and thanks to ALLSONGS subscription the user gets access to a library of thousands of Midi or Mp3 files, constantly updated by M-Live. Even without a PC the available archive will be huge and of top quality.
In addition to these important news, Merish5 has been optimized in every components: the digital mixer has been boosted and many extremely useful features have been added for a perfect performance on stage.