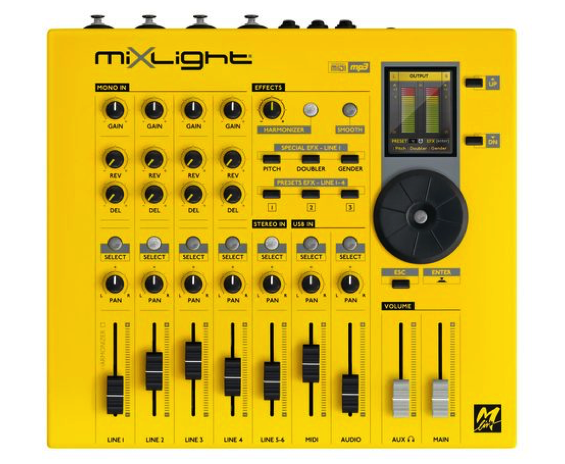 Mix Light includes: a Midi Expander with Audio Card and 848 Sounds, one Mixer with 7 sound sources (4 mono channels + 1 stereo channel) + 2 channels for the internal backing tracks and two balanced outputs, Multi-effect with Semiparametric Eq, a 4 Voices Harmonizer with Midi control or auto chorus generation.
When connected to the Computer Mix Light is able to record on Audio Software, Cubase type.
Mix Light plays the Midi and Audio backing tracks when connected to PC or Tablet, and it has Audio Card features. Performance can be mixed, and recorded directly to PC via the simple USB connection. You can also connect a keyboard and use the Mix Light sound bench to play live.
The expander included in the Mix Light consists of two Midi sound generators with a total of 32 Midi channels and 168-voice polyphony. The sound memory contains the entire Merish 4 database of 366 instrumental sounds and 482 percussive sounds subdivided into 46 drumkits. Mix Light is particularly suitable for the Midi File repertoire programmed by M-Live but will also play third-party repertoires very well.
Mix Light also functions as a sound card, enabling it to play Mp3 files stored on the connected PC or Tablet. Backing Tracks have their own channel on the Mix Light mixer, and can be mixed or equalised exactly as required, independently from the equalisation of the other channels.