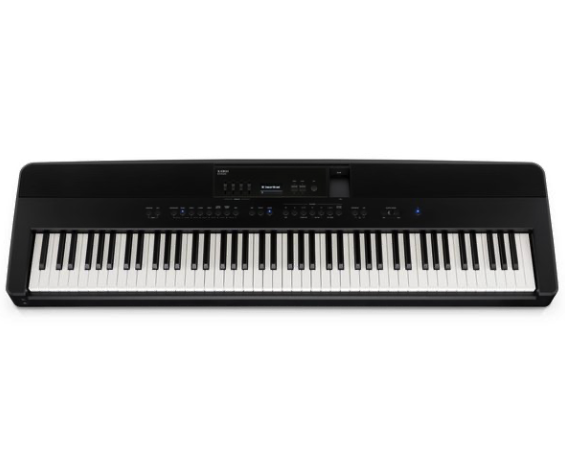 Kawai's ES series of instruments are high-performance, 88-key portable digital pianos suitable for the home, stage, recital hall, or classroom. The brand new ES920 and ES520 combine Kawai's highly-regarded Responsive Hammer keyboard action and Harmonic Imaging piano sound technologies, to reproduce the touch and tone of a concert grand piano, and provide an authentic, rewarding playing experience for pianists of all abilities. In addition to a strong selection of diverse acoustic piano sounds, the ES920 and ES520 also include a variety of outstanding electric pianos, organs, strings, and other voices, allowing these instruments to support a wide range of musical styles. These sounds are easily selectable from the pianos' elegant control panel, which features an intuitive button layout and sharp OLED graphic display, with the ES920's 4-band EQ faders also providing convenient real-time control during live performances.
The latest ES series models boast powerful 40W stereo speaker systems, and incorporate audio processing and amplification technologies developed in collaboration with premium Japanese audio specialists, Onkyo. This unique hardware combination allows these lightweight, portable instrument to deliver well-rounded bass and crisp treble frequencies, reproducing the superb Shigeru Kawai grand piano sounds with exceptional tonal clarity and richness.
The modern ES920 and ES520 also feature built-in Bluetooth MIDI and Bluetooth Audio connectivity, allowing apps such as Kawai's dedicated PianoRemote control app or a wide range of third-party learning and recreation apps to be enjoyed wirelessly, or for music streamed from a smartphone or tablet to be played through the piano's impressive audio system without any additional cables. However, wired connectivity remains strongly supported, with standard MIDI, USB, Line In and Line Out terminals providing a range of options for the home, studio, and stage.
1.
The latest ES models adopt a brand new exterior design, with the flat panel surface complemented by smooth, rounded edges. The instruments' sturdy body is surprisingly lightweight, with the ES920 weighing 17 kg (almost 6 kilos lighter than its predecessor), and the ES520 just 14.5 kg. As some of the most portable pianos in their respective classes, the ES920 and ES520 are excellent choices for gigging or studio musicians, yet also ideally suited to academic and religious institutions. Moreover, when attached to the dedicated HM-5 designer stand and F-302 triple pedal bar in matching black or white finishes, these versatile instruments are transformed into stylish, ultra-compact piano replacements, delivering an exceptional playing experience for the lounge, office, or bedroom.