American Dj
Mega Par Profile Black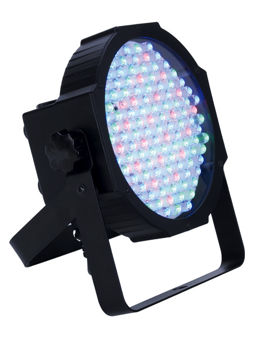 Product: Mega Par Profile
The ADJ Mega Par Profile is a compact, low profile par designed for uplighting, stage lighting and will bring color and excitement to any party. This Par is intelligently designed so that it may sit directly on the ground or inside truss without the hanging bracket because the power & DMX Ins and Outs sit on the side of the fixture, not on the rear.


The Mega Par Profile offers smooth RGB Color Mixing, has a 30-degree beam angle, 5 operational modes (including DMX, Sound Active and Master/Slave), and has 7 DMX Channel modes for a variety of programming options. Users can also use the ADJ LED RC wireless remote, which is sold separately, to control the Mega Par Profile.


Specifications:
• Ultra bright slim flat black Par with 108 10mm LEDs (26 Red, 46 Green, & 36 Blue LEDs)
• Smooth RGB Color Mixing (fast or slow color change operation)
• Power & DMX Ins/Outs sit sideways so the unit can be set flat on the ground or set inside truss
• Great as an architectural wall wash or for performance stages where traditional stage lighting emit a lot of heat onto performers
• 7 DMX Channel modes: 1, 2, 3, 4, 5, 6 or 7 channel modes
• 5 Operational modes: Auto mode and sound active feature with built-in programs
• Stand Alone or Master/Slave Configuration
• Beam Angle: 30 degrees
• 32 built-in Color Macros
• DMX-512 protocol
• Color strobe effect
• Linkable via 3-pin XLR cable
• Electronic Dimming: 0-100%
• Flicker Free
• Includes dual mounting brackets to hang on truss, mount on a wall or set on the ground
• Long Life LEDs (50,000 hrs.)
• Power Draw: 18W Max
• IEC AC input and output on rear to daisy chain power
• Compatible with ADJ LED RC wireless infrared remote control up to 30 ft./ 10M (sold separately)
• Multi-voltage operation: AC 90V-240V 50/60Hz
• Dimensions (LxWxH): 9"x8.75"x3.5"/ 225x220x85mm
• Weight: 3 lbs./ 1.1 kg.
€ 55,00
VAT included
Plus shipping
Need more information or advice on this product?
Use the form below to send us an email, we'll get back to you in 24/48 hours.
We deliver to most EU countries in just 48/72h. Please hold on a little bit more if you're placing your order during weekends or holidays.

Buy what you want! Shipping costs are fixed at 20€, no matter how many products are in your order!

Choose your payment, we accept PayPal and credit cards but also wire transfers. Currently no cash on delivery option, sorry.

You're safe!
The website and all the transactions are protected by a Digicert SHA-256 certificate.
Why buy from Esse Music Store?

Assistance
A pre and post sales support at your complete disposal. If there's a problem, you're sure we'll solve it.

Payment
You can pay your order as you like, choose between PayPal, credit card or bank transfer.

Shipping
We ship to most EU countries by express courier and delivery within 48/36h. All shipments are insured, no risk.

Safety
The whole site is protected by SHA-256 encryption, your data and your transitions are safe.

Warranty
Two-year warranty on all new products and three months on used ones. And if you do not like what you bought you have 14 days to return it.

Presence
We are a real shop with an exhibition area of over 3000sqm! Do not you believe it? Come and visit us in Montebelluna (TV) or have a look through Google Maps.

Prices
We continuously monitor prices on the market and we do our best to keep trying to offer you a highly competitive deal.

Availability
A warehouse of over 1000 square meters to send your order as quickly as possible, in addition to the possibility of booking the latest products.
Keep in touch!
©2020 Esse Music Store s.r.l. - Via Piave 110, 31044 Montebelluna (TV) Italia - Partita IVA/VAT ID: IT00175550268 - REA TV76818 - C.S. 100.000,00€ i.v. - Tel: 0423303236 - Fax: 0423624091 - I nomi dei prodotti, i loghi e i marchi utilizzati sono di proprietà delle rispettive società - Tutti i diritti riservati, è vietata la riproduzione, anche parziale, dei contenuti - Tutti i prezzi indicati sono da intendersi IVA inclusa.
Information on PRIVACY according to GDPR 2016/679 (General Data Protection Regulation) – booking on line

Dear User,
we would like to inform you that GDPR 2016/679 (regarding the protection of personal data) safeguards the protection of persons and other subjects regarding the processing of personal data. According to the GDPR 2016/679, this data handling is based on principles of correctness, lawfulness, transparency and protection of your privacy and your rights.

Therefore, according to article n. 13 of GDPR 2016/679 we hereby transmit the following information:


1. The personal data you give to ESSE MUSIC STORE SRL, the controller, will be handled for the following purposes:
a. The management your request of information about our products.
2. The processing of personal data will be carried out both through IT tools and manually by specially appointed employees. Your personal data will be stored in our digital archives and in any case on the European territory.
3. As part of the data processing described above it is necessary to know and memorize all the data necessary for the management of your request, such as, for example, the company's and personal details, telephone contact number, e-mail address, etc. Any refusal to provide such data could lead to failure or partial execution of the contract.
4. The personal data you provide will be communicated to authorized third parties for the fulfillment of legal obligations and for the management of your request.
5. The personal data you provide will be processed and stored for the purposes set out in points 1a. Subsequently the data will be deleted from our archives or destroyed in compliance with current legislation.
6. The controller is: ESSE MUSIC STORE SRL, via Piave 110 – 31044 Montebelluna (TV)
7. At any time, you can exercise your rights towards the data controller, in accordance with Articles 15 and subsequent of the GDPR 679/2016 by contacting us at the addresses indicated in this statement, by sending an email customersupport@essemusic.it
Messaggio pubblicitario con finalità promozionale.

Offerta di credito finalizzato valida dal 10 Settembre 2020 al 31 Dicembre 2020 come da esempio rappresentativo riportato nella presente simulazione.
Promozione valida in 6,12,18,24,30 mesi per importi superiori a 600€.

Es N.1. Prezzo del bene 800€, TAN fisso 7,74%, TAEG 20,18% in 6 rate da 136,36€; Totale del credito: 800€, totale dovuto alla finanziaria 843,16€. Prima rata a 30 gg. Imposta di bollo:16€

Es N.2 Prezzo del bene 2000€, TAN fisso 7,75%, TAEG 11,10% in 18 rate da 118,05€; Totale del credito: 2000€, totale dovuto alla finanziaria 2170,46€. Prima rata a 30 gg. Imposta di bollo:16€

Prima di sottoscrivere il contratto con la finanziaria a cui ci appoggiamo vi ricordiamo di prendere visione di tutte le condizioni economiche e contrattuali, facendo riferimento alle informazioni Europee di Base sul Credito ai Consumatori (IEBCC).