Akai
MPK Mini MK3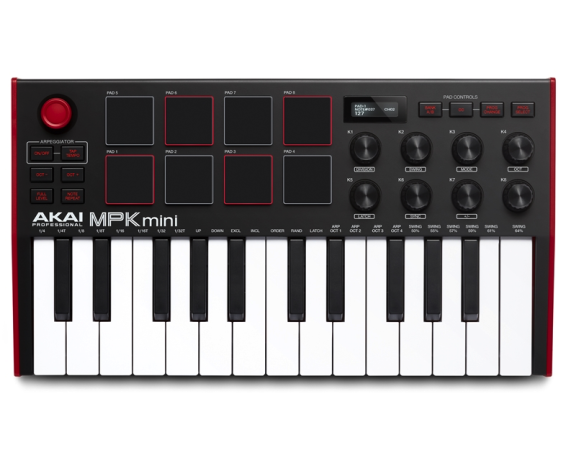 Step into the world of professional production with this amazing beat maker. The MPK mini mk3 is the third iteration of Akai Professional's best-selling mini keyboard controller.

The MPK mini mk3 has something for every modern producer. Players of all levels will enjoy universal compatibility with their favorite DAWs. Eight pads and assignable controls give you full command of your production. The enhanced Gen 2 dynamic keybed captures every subtlety of your performance. And the compact size makes it easy to take this beat maker with you wherever you go.

The MPK mini mk3 is a complete package of great production tools. Every song starts somewhere, so start your next hit with MPK mini.

Play Your Best
The reimagined Gen 2 enhanced dynamic keybed on the MPK mini delivers a piano key performance. From grand pianos to searing synth leads and lush electric pianos, this keybed captures the best of any playing style and virtual instrument.

MPC Pad Power
Using the same pads on Akai Professional's flagship MPC series, the MPK mini features 8 velocity-sensitive pads. These bankable, backlit MPC pads deliver the perfect touch for precise drumming and melodic sample playback. Even the most demanding performers will be impressed.

Production That Puts You In Control
MPK mini's rotary knobs give you full control of any assignable parameter in your music application. Tweak that EQ with precision or change-up your synth sounds on the y. Make that reverb wetter and mix to perfection.

Feedback Where You Need It
MPK mini's new OLED display gives you visual feedback of DAW mode selection, velocity, CC, and more. Spend more time focusing on your music and less on your computer screen.

Every Tool You Demand
Note repeat, arpeggiator and the omni-directional joystick are the trusted features players expect with the MPK mini. It's all here in MPK mini mk3, giving you the flexibility to make your performance your own.

Superior Design, Robust Build
The MPK mini mp3 is the most premium model in this series to date. The rock-solid, go-anywhere design, plug-and-play connectivity and a user-friendly workflow remove the barriers to your creativity.

Complete Music Production Starter Kit
You'll be making music in no time with the MPK mini's Complete Music Production Starter Kit. Start with a DAW based on the legendary MPC workflow, add in drum and sample expansion packs that the industry pros use, and top it off with the most versatile virtual plugin instruments available today. Pump out a hit summer party anthem, craft the next ballad to touch hearts worldwide or develop the soundtrack to a generation. The possibilities are endless. Featured software includes MPC Beats, AIR Hybrid, Mini Grand, Velvet and assorted MPC Expansion packs.

MPC Beats Software
Incorporating the finest parts of the MPC workflow, MPC Beats features all the essential tools for pro production. Edit samples, record audio and mixdown your tracks with world-class audio effects. Find any sound with the same synth engines found on the MPCs, and much more. MPC Beats will host your AU/VST plugins, so as you expand your arsenal, you'll have complete compatibility with industry-standard virtual studio technology. Need to collaborate? MPC Beats opens as a plugin in any DAW.

Sounds
Feel confident in your productions with a sample collection from some of the finest sound designers in the music production game. The collection includes F9 Instruments, Decap, Sample Tools by Cr2, MSX Sound Design and much more. Premium and versatile kick drums, snares, 808s, melodic loops, and must-have keygroup instruments let you produce melodic line imaginable. Everything you need is here in the MPK mini mp3.

Features

25 mini keys featuring redesigned Gen 2 Keybed for incredible dynamic expression and precise articulation
Brilliant OLED display for immediate parameter feedback
8 bankable MPC performance pads with legendary note repeat and full level functions
8 endless knobs
4-way joystick for pitch & modulation control
Class-compliant USB connectivity
Built-in arpeggiator
Sustain pedal input jack
Superior, sturdy design and build
1500+ sounds and everything you need for pro production – complete music production starter kit including MPC Beats, 6 virtual instruments (Bassline, Tubesynth, Electric, Hybrid 3, Mini Grand, Velvet) and 2GB of sound content
Specifications Keyboard
Number of keys: 25
Action: Piano
Key size: Mini
Velocity sensitive: Yes
Connectivity
MIDI: Yes
USB: Yes
Pedal inputs: Yes
Controls
Pads: 8
Pitch bend/Modulation: Both
DAW transport: Yes
Onboard Features
Display: OLED
Bundled Software: MPC Beats
Arpeggiator: Yes
Other
Width: 12.5 in.
Height: 1.75 in.
Depth: 7.13 in.
Weight: 1.65 lb.
€ 94,10
99,00€ you save 4,90€
VAT included
Plus shipping
Need more information or advice on this product?
Use the form below to send us an email, we'll get back to you in 24/48 hours.
We deliver to most EU countries in just 48/72h. Please hold on a little bit more if you're placing your order during weekends or holidays.

Buy what you want! Shipping costs are fixed at 20€, no matter how many products are in your order!

Choose your payment, we accept PayPal and credit cards but also wire transfers. Currently no cash on delivery option, sorry.

You're safe!
The website and all the transactions are protected by a Digicert SHA-256 certificate.
Why buy from Esse Music Store?

Assistance
A pre and post sales support at your complete disposal. If there's a problem, you're sure we'll solve it.

Payment
You can pay your order as you like, choose between PayPal, credit card or bank transfer.

Shipping
We ship to most EU countries by express courier and delivery within 48/36h. All shipments are insured, no risk.

Safety
The whole site is protected by SHA-256 encryption, your data and your transitions are safe.

Warranty
Two-year warranty on all new products and three months on used ones. And if you do not like what you bought you have 14 days to return it.

Presence
We are a real shop with an exhibition area of over 3000sqm! Do not you believe it? Come and visit us in Montebelluna (TV) or have a look through Google Maps.

Prices
We continuously monitor prices on the market and we do our best to keep trying to offer you a highly competitive deal.

Availability
A warehouse of over 1000 square meters to send your order as quickly as possible, in addition to the possibility of booking the latest products.
Keep in touch!
©2020 Esse Music Store s.r.l. - Via Piave 110, 31044 Montebelluna (TV) Italia - Partita IVA/VAT ID: IT00175550268 - REA TV76818 - C.S. 100.000,00€ i.v. - Tel: 0423303236 - Fax: 0423624091 - I nomi dei prodotti, i loghi e i marchi utilizzati sono di proprietà delle rispettive società - Tutti i diritti riservati, è vietata la riproduzione, anche parziale, dei contenuti - Tutti i prezzi indicati sono da intendersi IVA inclusa.
Information on PRIVACY according to GDPR 2016/679 (General Data Protection Regulation) – booking on line

Dear User,
we would like to inform you that GDPR 2016/679 (regarding the protection of personal data) safeguards the protection of persons and other subjects regarding the processing of personal data. According to the GDPR 2016/679, this data handling is based on principles of correctness, lawfulness, transparency and protection of your privacy and your rights.

Therefore, according to article n. 13 of GDPR 2016/679 we hereby transmit the following information:


1. The personal data you give to ESSE MUSIC STORE SRL, the controller, will be handled for the following purposes:
a. The management your request of information about our products.
2. The processing of personal data will be carried out both through IT tools and manually by specially appointed employees. Your personal data will be stored in our digital archives and in any case on the European territory.
3. As part of the data processing described above it is necessary to know and memorize all the data necessary for the management of your request, such as, for example, the company's and personal details, telephone contact number, e-mail address, etc. Any refusal to provide such data could lead to failure or partial execution of the contract.
4. The personal data you provide will be communicated to authorized third parties for the fulfillment of legal obligations and for the management of your request.
5. The personal data you provide will be processed and stored for the purposes set out in points 1a. Subsequently the data will be deleted from our archives or destroyed in compliance with current legislation.
6. The controller is: ESSE MUSIC STORE SRL, via Piave 110 – 31044 Montebelluna (TV)
7. At any time, you can exercise your rights towards the data controller, in accordance with Articles 15 and subsequent of the GDPR 679/2016 by contacting us at the addresses indicated in this statement, by sending an email customersupport@essemusic.it
Messaggio pubblicitario con finalità promozionale.

Offerta di credito finalizzato valida dal 10 Settembre 2020 al 31 Dicembre 2020 come da esempio rappresentativo riportato nella presente simulazione.
Promozione valida in 6,12,18,24,30 mesi per importi superiori a 600€.

Es N.1. Prezzo del bene 800€, TAN fisso 7,74%, TAEG 20,18% in 6 rate da 136,36€; Totale del credito: 800€, totale dovuto alla finanziaria 843,16€. Prima rata a 30 gg. Imposta di bollo:16€

Es N.2 Prezzo del bene 2000€, TAN fisso 7,75%, TAEG 11,10% in 18 rate da 118,05€; Totale del credito: 2000€, totale dovuto alla finanziaria 2170,46€. Prima rata a 30 gg. Imposta di bollo:16€

Prima di sottoscrivere il contratto con la finanziaria a cui ci appoggiamo vi ricordiamo di prendere visione di tutte le condizioni economiche e contrattuali, facendo riferimento alle informazioni Europee di Base sul Credito ai Consumatori (IEBCC).