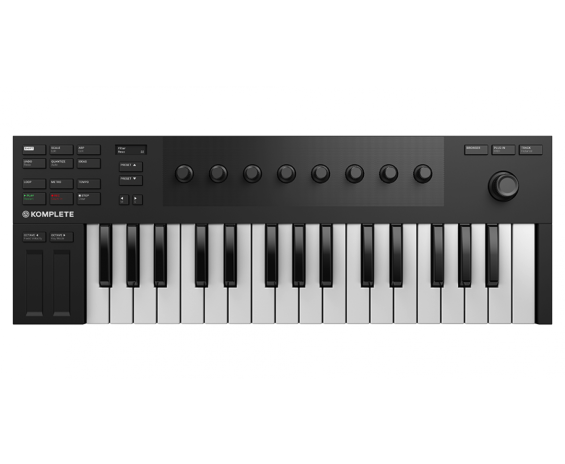 Its 32 great-feeling keys not only give you great playability, but also a compact way to express your creativity.

Combined with innovative software, Smart Play features, and seamless integration, you get intuitive control over all your instruments, effects, loops and samples – directly from your keyboard.
Inspiration can happen at any moment, so you need to get your ideas down quickly, wherever you are. KOMPLETE KONTROL M32 is perfect to plug in and play anywhere. Easy to set up, easy to pack away – it doesn't just fit your workflow, but your lifestyle, too. If you want to make tracks on the go, or create a compact studio setup – you now have the perfect keys to fit your needs. Lightweight and road trip ready, where will your music take you?
TAKE THE WORK OUT OF WORKFLOW

There's no right or wrong path to follow when making music – that's the beauty of it.

Whatever works for you, KOMPLETE KONTROL M32 has the tools you need to go from first note to finished track, every step of the way.
The KOMPLETE KONTROL software makes browsing easier by organizing and tagging all your KOMPLETE and NKS instruments and effects, allowing you to hear each preset as you scroll. Thanks to Sounds.com, you now have over a million loops and samples to discover, too.
Using KOMPLETE KONTROL, everything is collected into a single browser – making flicking through folders and searching for sounds a thing of the past.

TWEAK TO YOUR TASTE

You've found that elusive sound, now you want to adjust its parameters to suit your style, straight from your keyboard. You're in luck. You can use the OLED display and touch-sensitive knobs to tweak your sound's essential parameters in real-time.
All of your KOMPLETE and NKS instruments and effects are pre-mapped to the KOMPLETE KONTROL hardware by the people who designed them – so you know you're in good hands.