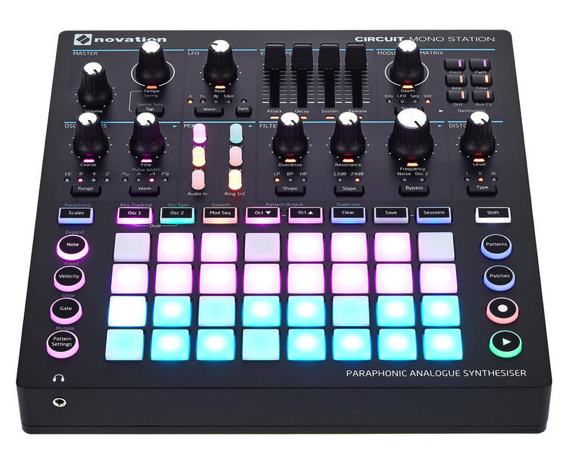 Circuit Mono Station is a paraphonic analogue synthesiser that originates from the Novation Bass Station II, with three sequencer tracks that benefit from the 32 velocity-sensitive RGB pads found on Circuit.
The CV, Gate and modulation outputs provide an easy mechanism for controlling separate hardware. You can plug Circuit Mono Station into your Mac or PC via USB and start playing. It also has MIDI In, Out and Thru, so you can connect your other MIDI gear. Passing an audio signal through the audio input opens up a world of analogue filtration and distortion. Using the audio input with the mod sequencer, you can modulate, evolve and process your source in entirely new ways.
Both monophonic and paraphonic modes are available, with each oscillator controlled by its own sequencer. In total, there's two oscillator sequencers and one modulation sequencer. You can alter Gate length, switch patterns instantly, choose sync rate and mutate patterns.
Novation's Circuit Mono Station is by no means the first paraphonic synth. But by embracing 'paraphony', we entered a sometimes confusing sub-section of synthesis categorisation.

Turns out that the sub-section of phraseology that refers to the number of sounds a synth is capable of creating at any one time is a pretty confusing topic. Read what Peter Kirn (Create Digital Music) and the makers of Circuit Mono Station have to say about it.