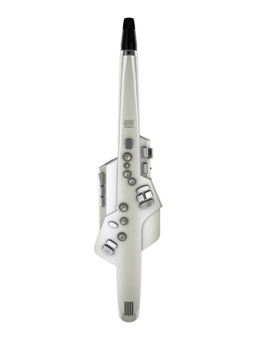 The New digital wind instrument.
Fingering compatible with an acoustic saxophone.
Mouthpiece features sensitive breath sensor with reed structure for friendly playing feel and control over techniques like vibrato and pitch.
Realistic and expressive saxophone sounds include soprano, alto, tenor, and baritone, all instantly transposable to any key with no fingering stress
Additional acoustic sounds include wind instruments (clarinet, flute, and trumpet) and string instruments (violin)
Easy operation with display for selecting sounds and settings
Onboard monitor speakers and headphones output for playing anytime, anywhere; Battery operation (6 x AA) for up to seven hours of continuous play; Easy connection to a computer DAW via USB; Input for connecting a smartphone or music player for playing along with backing music
.