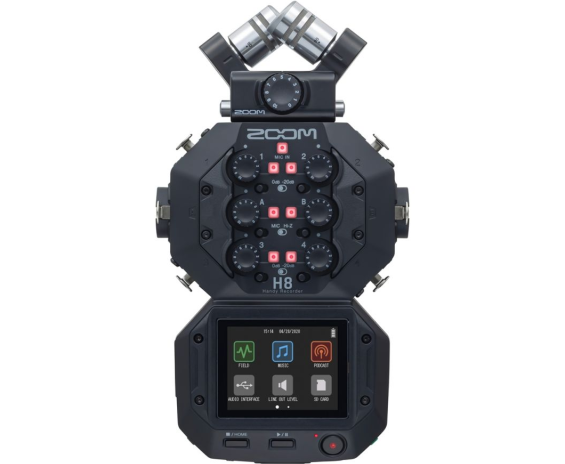 12 simultaneous recording tracks, interchangeable capsules, and an App-driven touchscreen interface, the H8 is designed to meet all your audio recording needs.
Whether you're capturing audio on location, recording music, or producing a podcast, the H8 color touchscreen adapts to your project's needs with three App-driven interface options. All with the touch of your finger.
The MUSIC App puts all the important controls at your fingertips: audio levels, faders, metering and more. With 10 inputs and 12 tracks, capturing a large group is easy. Mix, overdub, and enhance your recordings with EQ and compression. Connect to Zoom's Guitar Lab via USB to access an endless assortment of amps and effects.
The FIELD App is ideal for location sound, sound design, conferences, and more. It gives you instant access to large meters for every track, so you can make sure your recordings never clip. Adjust input type, lo-cut, compress, limiter, noise gate, and other key settings.
The H8 comes with the Zoom XYH-6 microphone. This capsule provides two matched high-quality unidirectional mics, for capturing signal directly in front of the recorder. With the Zoom mic capsule system you can easily swap capsules to ensure you're always using the right mic for the job.