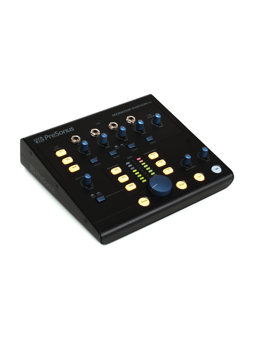 The Presonus Monitor Station V2 is a controller for studio monitors and headphones.
Connections are: 2 Stereo Jack inputs, 1 Stereo RCA Aux inputs, 1 stereo S / PDIF coaxial, 3 pairs stereo jack speaker outputs with volume control, 1 stereo Main outputs, one stereo pair Cue outputs, 4 stereo headphone jack outputs.
The Presonus Monitor Station has a built-in microphone for talkback with button.