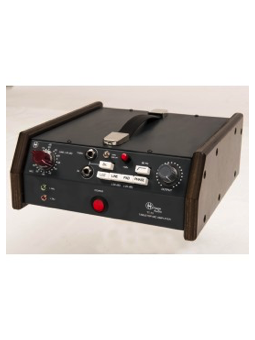 Heritage TT-73

Table top mic preamp that is essentially a reformatted DMA73 single channel.
Special attention was paid to the internal power supply, which was custom designed to operate near audio transformers without induced noise.
A novelty in the range of tabletop units is the implementation of DI THRU sockets for the simultaneous use of instrument amplifiers.

SPECIFICATIONS
Microphone Input Impedance: HI, 1200 Ohm minimum, LO, 300 Ohm minimum.
The input is balanced and moving transformer
Line Input Impedance: 10K Ohm bridged, balanced and floating transformer
DI input impedance: greater than 2 megohm, unbalanced
Output impedance: less than 75 ohm, balanced and floating transformer, to drive a 600 ohm load (factory terminated)
Maximum output: greater than + 26 dBu at 600 ohm
THD: less than 0.025% at 1Khz, less than 0.05% at 100Hz
Frequency Response: 20Hz (+ 0.3dB) to 20Khz (-0.2dB)
Maximum gain: slightly above 80 dB
Noise: less than -100dBu.