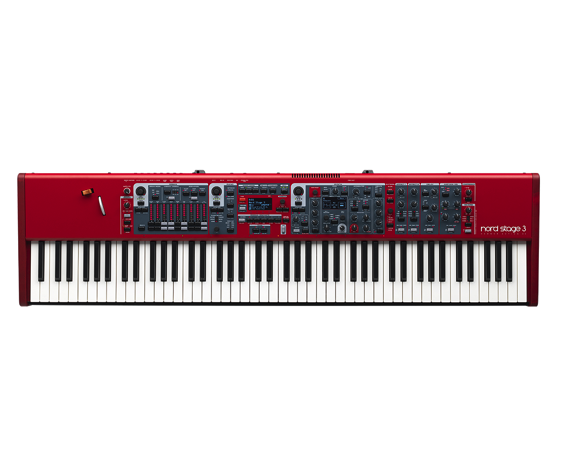 The Nord Stage 3 is the fifth generation of our successful Stage series continuing our vision of the ultimate instrument for the performing musician.
Our outstanding new flagship instrument features our latest award-winning technologies including the Nord Lead A1 Synth Engine with sample playback, our acclaimed Nord C2D organ, a greatly enhanced Piano Section and extensive hands-on Effects - all in one exceptional performance keyboard.
Two super-clear OLED displays for on-stage clarity, Seamless Transitions when changing programs/sounds, extended Split functionality with optional crossfade, and the addition of the new Song List Mode makes the Nord Stage 3 more intuitive and flexible than ever before for the live performer.
Massive sonic flexibility
The Nord Stage 3 has three sound generating sections; Piano, Organ and Synthesizer, all of which can be used simultaneously. Furthermore, the Nord Stage 3 has 2 separate slots allowing you to have 2 Pianos, 2 Organs and 2 Synths plus Effects at the same time for massive sonic flexibility.
Seamless transitions
The Nord Stage 3 features automatically seamless transitions when changing sounds or programs while playing.
Song Mode
A new Song Mode let's you easily organize a group of Programs for each specific song in the list. Each song can consist of up to 5 different Programs, freely assignable from your existing Programs. You can create unique Song Lists for different bands or situations and the names and order can be easily customized on the fly without connecting it to a computer. The super clear new OLED display offers excellent overview when selecting sounds and editing programs.
Advanced Split functionality with optional crossfade
The Nord Stage 3 also features 3 Split Zones and a new Split Point Crossfade functionality. Choose among 3 different crossfade widths (Small, Large or Off) indicated by different LED colors.
A new Split Point Editor Mode lets you easily organize and set up Split Points using the OLED display giving you a great overview of the assigned sound sources for each Split zone.
Support for Program change via pedal
The Nord Stage 3 also supports Program change via pedal allowing for flexible program changes (up/down) while keeping your hands on the keyboard.
The Nord Stage 3 features a wide selection of Grands, Uprights, Electric Pianos, Digital Pianos, Clavinet and Harpsichord from our exclusive Nord Piano Library - all handpicked for their unique characters! The Nord Stage 3 Piano section also features a brand new "Layer" category with rich dynamic layered patches.
Nord's state-of-the-art sampling techniques capture the extraordinary nuances and real character of the source instruments. Our unique 'Advanced String Resonance' and Dynamic Pedal Noise features deliver breathtaking realism and an unsurpassed level of expressiveness.
Replaceable sounds
The Nord Stage 3 Factory Bank features a very extensive selection of the Nord Piano Library but you can easily add or replace any of these sounds using the Nord Sound Manager. Our exclusive Nord Piano Library is constantly updated with new exclusive world class sounds, and always free of charge.
Long Release
A Long Release-mode adds a slightly longer release, more suitable for legato playing, emulating a looser damper tension in an acoustic or an electromechanical instrument.
Nord Triple Pedal
The Nord Triple Pedal (optional accessory) features our unique dynamic sustain pedal that enables the use of half-pedaling and "release and catch" techniques and also Sustenuto and Soft Pedals. The Nord Triple Pedal also recreates the mechanical sounds of lifting and releasing the damper mechanism, producing the characteristic thomp and sizzle sounds. The Pedal Noise feature responds dynamically to the force/momentum used when pressing or releasing the sustain pedal on the Nord Triple Pedal.