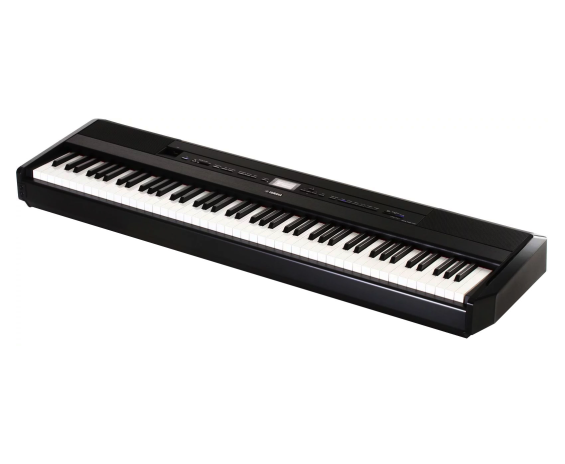 Originally bought in october 2021, changed due to different needs.

Pianos in the P-Series are high quality, portable instruments. They are equally at home "on the road" or "in the home", and are a common choice for the professional musician.

The P-515 replaces the P-255 at the top of the P-Series, and offers many enhanced features over its predecessor. These include improved piano voices, a better keyboard action, and greater functionality.

Yamaha employ multi-samples of their CFX acoustic grand, and Bösendorfer Imperial grand in their high-end hybrid pianos (Clavinovas, TransAcoustics, etc.). The P-515 is the first piano in the P-Series to incorporate these instruments as its principal voicing. Recorded at many velocity layers, the samples' loudness, brightness, and harmonic content respond to the pianist's dynamic playing style. This helps establish the sound of the acoustic instrument.
Yamaha's Virtual Resonance Modelling (VRM) technology then enhances the sound by introducing string and soundboard resonances. The effects of depressing the damper pedal is similarly modelled. Yamaha have also now included key-release samples which capture the timbral and amplitudinal changes when a key is released.
The P-515 is the first in the series to use Yamaha's NWX keyboard. NW stands for Natural Wood – the keys are made of carefully dried wood and capped with simulated ebony / ivory key surfaces. The X indicates that the keyboard uses an escapement mechanism for the action. The hammer of an acoustic piano is "thrown" at a string when a key is pressed. It momentarily disengages, or escapes, from the key itself. Hence "escapement". The NWX keyboard has a simplified escapement action giving it a more realistic feel, and a greater dynamic control.
The Yamaha Smart Pianist App (iOS) can be used with the P-515. This opens up a whole new world of control, and functionality. The app can also analyse any song held on the device's music library, and generate a custom chord chart.

The casework (a choice of black or white) is simple but attractive, with high gloss end cheeks giving a nod to an acoustic instrument. An optional wooden stand and triple pedal unit (half-damper, sostenuto, and una corda) transforms the piano into an attractive instrument for the home.