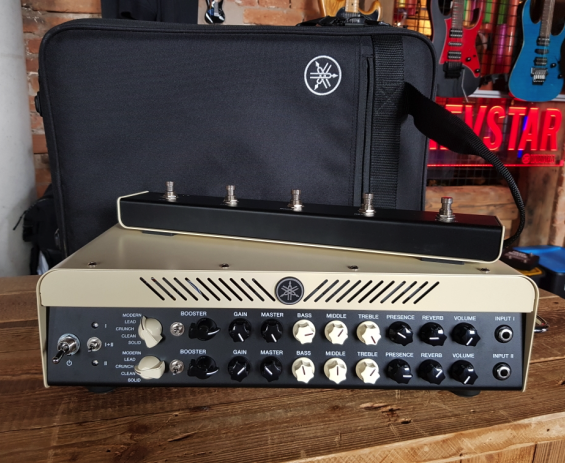 THR100H Dual packs true dual-amp functionality into a single 5kg package. Both amps feature five custom-voiced amp types with natural, organic overdrive.
THR100H Dual offers 5 amp types
MODERN An "American-modded" version of the Lead amp-type,
LEAD Medium-gain British tone
CRUNCH Low-powered, bright British tone
CLEAN Warm, rounded American tone
SOLID Clean, solid-state amp for zero breakup at any level
THR100H Dual offers 5 tube types
6V6 Warm, soft,
EL84 Smooth feel
KT88 Big, clean
6L6GC Strong,
EL34 Pronounced midrange
Control Knob Front
AMP TYPE, BOOSTER, GAIN, MASTER, BASS, MIDDLE, TREBLE, PRESENCE, REVERB, LEVEL
Input/Output Rear
PHONES (1/8" Mini Stereo), FOOTSWITCH (5pin DIN), EFFECT LOOP SEND/RETURN (Stereo 1/4" Phone), SPEAKER OUT 1 (1/4" Phone), SPEAKER OUT 2 (1/4" Phone), LINE OUT I (XLR), LINE OUT II (XLR), AC IN Jack
Rated Power Output Single Amp: 100W (8/16Ω) 50W (4Ω), Dual Amp: 100W (50W+50W).
Weight 4.2kg.