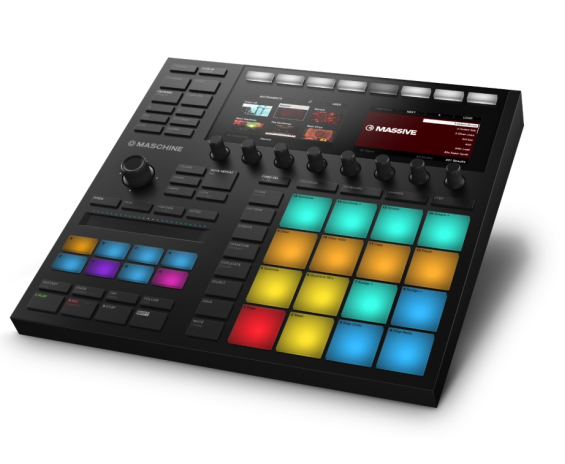 Big, bold, and in your face, the larger pads create more room for complex moves like flams and rolls. New technological updates make the pads more sensitive to lighter touches, for more expressive playing. And since the center-to-center distance is exactly the same, your muscle memory and workflow don't have to change.
With two full-color displays and the four-directional push encoder, you can browse sounds, FXs, plug-ins, and instruments with a tactile, one-handed, completely visual workflow – simply find the thumbnail and load directly from the hardware. Plus, the high-res screens let you get more precise with your mixing, see an overview of your arrangement, or zoom in on waveforms to slice samples like a surgeon.
MASCHINE now comes with a studio-grade, 96kHz / 24-bit audio interface for pristine sound. Simply patch in a synth or add a dynamic mic for quick recording and sampling. Stereo line and MIDI ports make it a perfect centerpiece for any studio. Plus, it's USB-powered, so you can record anywhere with your laptop – or plug in the included power supply unit for brighter pads.