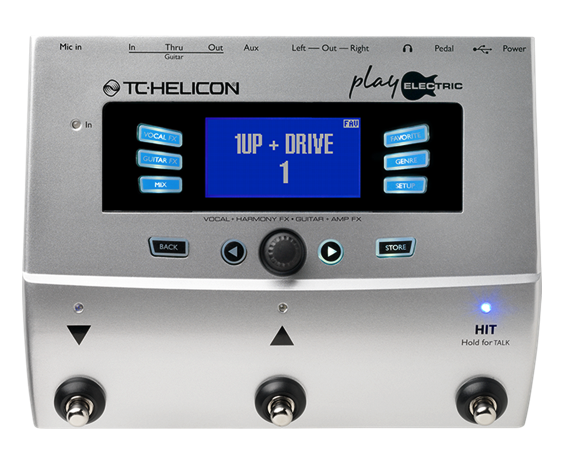 TC Helicon presents Play Electric ... simply the best processor to handle voice and guitar!

As a voice processor Play Electric offers reverb, modulation, delay and distortion, is also able to detect the pitch you're playing on the guitar in order to produce perfectly tuned vocal harmonies!

As a guitar processor Play Electric has effects worthy of the legendary TC quality with algorithms derived from their best pedals (Hall Of Fame, Flashback, Corona Chorus Pedal and Dark Matter). Play Electric can be connected to any guitar amp but also has built-in amp simulators modeled from history's most famous amps, as well as a simulator dedicated to the acoustic guitar.

The controls, as in all TC Helicon products, are simple and intuitive. The "HIT" functions has a dedicated switch allowing you to make an A / B change within the same preset. The integrated V-LOOP looper allows you to easily create vocal and guitar layers... and also comes in handy during the sound check!

The output of Play Electric can be operated either as a mix or as separate outputs for guitar and voice.