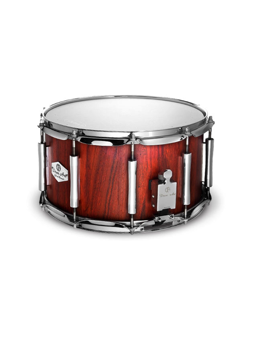 DRUM ART DA1265PA - Padouk 12"x6.5" Snare Drum
We have made the type of snare drum able to marry the warmth and full-bodied sound of wood with the sensitivity and entry of metal.
All from a single instrument, without having to choose.
Of dense and porous wood, Padouk stands out for its full-bodied sound and sustenance.
Deep timbre and an exceptional balance of tones, with a slight prevalence of bass.
It is ideal for classical music, which is why it has been chosen by Maestro Gabriele Bianchi and by the percussionists of the La Scala Theatre in Milan.
Its robust, powerful sonority is also suitable for rock music, as it recalls the legendary sounds of the 70's.
That is also a reason why it has been chosen by many rock drummers.
Size: 12" x 6.5";
Shell: Padouk;
Hoops: Power Hoops;
Includes: Professional case and tuning key D-KEY Drum Art.